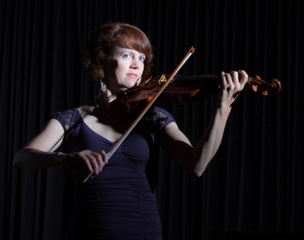 "Next to silence, music comes the closest to expressing the inexpressible." – Aldous Huxley
"...Walther was just as impressive...Most impressive, however, was her capacity for improvisation, exploring the inventive potential of just about every selection she played."
– SF Examiner, 2015
"The use of (Miles) Davis' genius of space and depth, violinist Walther takes the path less worn, creating an electrifying perpendicular thrust, eliciting rushes of sound."
– Album Review, The Roots Music Authority, 2014
"Listen to violinist Michèle Walther in ...Miles Davis' 'So What' for an example of the virtuoso soloing that the Resonance players can put out."
–Soundstage, Recording of the Month, 2013
Violinist Michèle Walther is a performer, composer, arranger, and educator in the Bay Area. Among others, Michèle performs with Resonance Jazz, Steve McQuarry, Tangonero, Dan Cantrell, and solo with live looping. Recent performances include Resonance at SFJazz Center and Yoshi's, and "A Living Tribute to Carla Bley" at the SFJazz Center, where she was featured in "Birds of Paradise".
Michèle has performed in venues throughout Europe and North America with Ian Anderson/Jethro Tull, Gloria Estefan, Joe Lovano, Oscar Stagnaro (Paquito D'Rivera), Pablo Ablanedo Septet (jazz, latin; label fresh sound/new talent), Vardan Ovsepian Chamber Ensemble, The Boston String Quartet (CD Spectrum), Basel Sinfonietta, Mark Feldman, Steve Gadd, and more.
She is a founding member of the trio LaMuseMent (CD orange heart; label altrisuoni.) Ms. Walther earned her M.M. at the Conservatory of Music in Basel, Switzerland, and later graduated from the Berklee College of Music in Boston, majoring in jazz violin performance.