Violin & looper
I am really enjoying my project for solo violin and looper. I'm performing originals with flavors of jazz, folk and minimal music, and jazz and world music by Richard Galliano, Wolfgang Puschnig, Anouar Brahem, Charlie Mariano and others.
Resonance Jazz Ensemble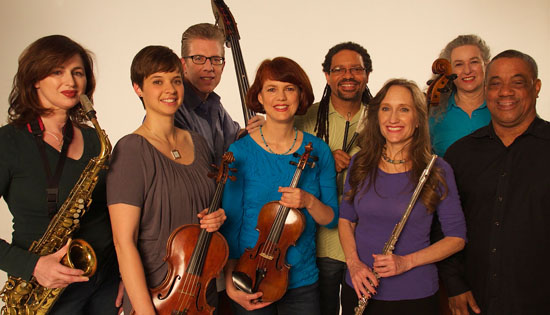 Resonance Jazz Ensemble performs inspired originals by bandleader Steve McQuarry, as well as deliciously creative arrangements of jazz standards, pop tunes and classical favorites with woodwinds, strings and a rhythm section that includes piano, double-bass and drums.
Resonance is a unique collaboration of jazz and classical musicians, and is the only jazz ensemble in Northern California with this unusual instrumentation. Resonance captivates audiences with its singular, lush sound punctuated by driving rhythms and improvised solos.
Resonance Jazz brings together artists of richly diverse musical backgrounds. Members of the octet have performed with many legendary artists, such as Dizzy Gillespie, Louie Bellson, Clare Fischer, Dave Anderson Quartet, Terrence Brewer, Joe Lovano, Jethro Tull, Oakland Jazz Choir, Mingus Amungus, Gloria Estefan, as well as the Marin and Berkeley Symphonies, and the California Pops Orchestra.
LaMuseMent
Tangonero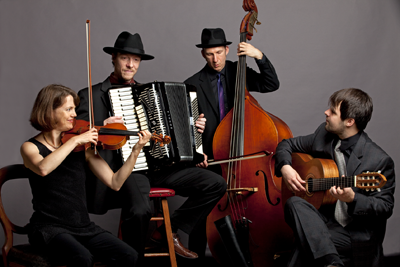 With members from Russia, Switzerland, and the United States, Tangonero is a San Francisco based ensemble dedicated to preserving the tradition of Argentine Tango. From the folk styling of Roberto Grela to the jazz infused grandeur of Astor Piazzolla, their arrangements cover the broad scope of tango history. Overflowing with intense passion, lust and sorrow, their performance captures the fire of the dance and the essence of a culture.
Members are Alex Roitman, bandoneon; Zac Selissen, guitar; Jacob Johnson, bass; Michèle Walther, violin
Violin, Looper & Dance